This is the talk section for the Best Friends Wiki home page. This page is to be used for making reccomendations for, and discussing changes to the formatting of the front page. When commenting, remember to do the following:
Add a heading above your comment.
Always sign with four tildes (~~~~) at the very end of your comment. Do not put anything else after this.
Remember to keep the topic related to the front page.
The Milkman | I always deliver. 08:16, July 1, 2013 (UTC)
Quote Box suggested improvement
Edit
Could the frontpage quote box include some kind of indication to what the quote is from? I understand quotes on LP articles refer to the part of which the quote was taken, yet the quote box could also include what LP/Friendcast episode it is from, as they are often taken without context of their origin. I'm uncertain how the quote box functions, so I'm not sure if this is actually possible, yet doing so would assist greatly in sating people's curiosity.  JAK0723 (talk) 06:36, December 2, 2014 (UTC)
Podcast Page Improvement Idea
Edit
The only pages I've noticed on this wiki that desperately need attention are the podcast ones (about 2/3rd of them seem to just be skeleton pages with the &quot template) and It'd be great to see that fixed because they would be a great source of info.
This is way too big a project for the 10 or so regular editors of this wiki mainly because of how long each podcast is when we've probably already seen them, so I'd suggest giving front page space to let the occasional contributors know that they can help fill them out: something like a progress bar of how many podcasts have fully filled out pages.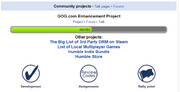 This one from PCGaming wiki is about what I was thinking of and I'm sure they'd happily share the coding.
Greeners (talk) 19:54, December 11, 2014 (UTC)
For sure. I've been getting back into editing those pages, since it's usually my job. I think I should be able to knock a good chunk of them out before too long. What really needs work however, are the Friendcast Mailbag pages. The first few are filled out very thoroughly, but after that, nothing. I think I can handle the podcast stuff, but the Mailbag pages definitely need some work.
--The Milkman | I always deliver. 20:36, December 11, 2014 (UTC)
I never did get round to watching those mailbags, they've sat in my "watch later" for years. When I get the chance over holidays I'll give it a shot and fill everything out as I go. 
Community content is available under
CC-BY-SA
unless otherwise noted.