"People were talkin' about the brick shit for weeks, they're gonna be fuckin' makin' fun of you for that fire axe shit forever!"
— Pat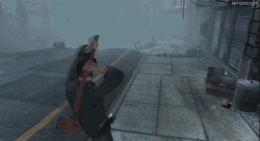 The infamous Fire Axe is a running joke in Two Best Friends Play. In part ten of Matt and Pat's Silent Hill Downpour Let's Play, Matt accidentally throws the fire axe, the best melee weapon in the game, into a bottomless chasm by pressing RT instead of RB (the button used to run), and Pat ridicules him for it. This is after several occasions where Matt had accidentally thrown his weapons at various enemies in a panic when forgetting which button was the attack button. Immediately after throwing the axe, Matt was attacked by a monster.
Silent Hill Downpour
Edit
"I'm losing my shit over this, 'cause eventually, you're gonna drop something, and you're not gonna be able to fuckin' find it again, and you're gonna feel like a stupid fuckin' idiot."
— Pat
"I guess you better go get that brick...."
— Pat, after Matt threw his fire axe down a chasm
"Don't throw your fuckin' fireaxe dipshit!"
— Matt
"Oh axe! I'm sorry!"
— Matt
"Why did you throw it again!?"
— Pat
The Walking Dead
Edit
"Now we have this axe to suck our dicks!"
— Pat
"I have a big-dick axe."
— Matt
"It's time to axey axe, I guess."
— Matt
"You have a brick and a fire axe. This reminds me of several other great moments in our history."
— Pat
The Last of Us
Edit
"All I know is that I'm never gonna fuckin' throw an axe down a pit, so I'm safe from that level of mockery."
— Pat
"I support the use of this axe."
— Matt
"I'm gonna pick up this dude's axe!"
— Pat
"Can I play this part?"
— Matt
"Now, as you know, I'm an expert with fire axes."
— Matt[src]
"I once threw an axe into a big stupid chasm; that moment came to define my career."
— Matt[src]
"You know what throwing the axe changed in the playthrough? Absolutely fucking nothing. You know what walking into a stationery blade did? It ruined forty minutes of a playthrough."
— Matt[src]
"Yeah, throw the fire axe away!"
— Matt[src]
"I just realized, I threw away another axe that was super good. Keeping up with the tradition."
— Matt[src]
"It's a fuckin' axe. Throw that shit, Simon! Throw it! Throw it like I would!"
— Matt[src]
"See kids? If you have a fuckin' axe just throw it, there's no downside."
— Matt[src]
In certain Best Friends artwork and animation, Matt can be seen with a fire axe as his preferred weapon, whereas Pat uses a shotgun.
In the 2012 round up video, Matt decides to blank out the moment where he threw the axe to avoid being mocked.
In the Super Best Friends Skyrim Mod, Matt's weapon of choice is the "Fire Axe", a custom enchanted weapon for him.
In episode three of Two Best Friends Funtime Adventures, First Person Stupidity, Matt is seen throwing axes resembling the one from the Silent Hill: Downpour playthrough while defending his position, which he obtains from a box of axes literally dubbed "BOX OF AXES" on it's side, with Murphy Pendleton holding his very own axe with an attempted cat face (" :3") also embroidered on the same side.  
As revealed in the Friendcast Mailbag! Week 1, Matt was sent a vintage red fire axe by a fan. Despite the shock of being sent a legitimate axe through the mail and the Zaibatsu wondering if such a thing was even legal, Matt stated that he plans to mount it on his wall.
In Animal Crossing: The New Flesh, Matt is killed by a thrown axe, possibly as a nod to the Silent Hill: Downpour Let's Play.