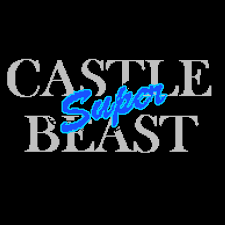 "I didn't know that I had saved up enough cool points in my life to cash them in on podcast success."
— Pat
Castle Super Beast, formerly The Super Best Friendcast, is a weekly podcast hosted by Woolie, starring him and Pat and formerly Matt and Liam. Each episode begins with what each person did that week, and then segueing (usually poorly) into discussion about video game and pop culture news, followed by answering questions from fans, ending with the "Zaibatsu Watch", briefly informing what they've individually been stalking that week, as well as giving brief cliff notes of what to expect in the upcoming days on the channel.
The Zaibatsu also answers questions every week during the "Letter Time" segment, which can be submitted to castlesuperbeastmail@gmail.com. Updates on new podcasts are posted on Woolie's Twitter @WoolieWoolz.
The podcast is hosted on Libsyn. The iTunes page is located here. There is also a Soundcloud page that can be found here.
The podcast recording can be watched live on Twitch.
Sponsors
Edit
Occasionally. guests will also appear on the show. A majority of the episode will take place as usual, without the guest, and the guest will be introduced later. Guests have included:
Daniel Day Lewis as Trap Room
Juggalos In Jerusalem
Battle Royal Rumble
Village Hidden in the Low Interest Rates
Racist Cat and the Cowboy Bang Bangs
DJ Khaled's Omnic Army Will Never Go Down
Your Mukbang Can't Be Too Moist 
First Party Softening Gel
Battlebooru 
Gateway Bug: Pull My Poyo Trigger
Yiff Room Crash Team Racing Setups
Super Best Friendcast! was chosen by the iTunes editorial staff as one of the best podcasts of 2013 and 2014.
The favicon for superbestfriendcast.com was the ReBoot logo, before the URL was moved to the website.
There was no podcast for the first week of November 2017 due to multiple family emergencies. This was the first time the podcast missed a week since it's creation.
The podcast was renamed to Castle Super Beast after the dissolution of the Super Best Friends Play channel and Matt's departure.
Community content is available under
CC-BY-SA
unless otherwise noted.